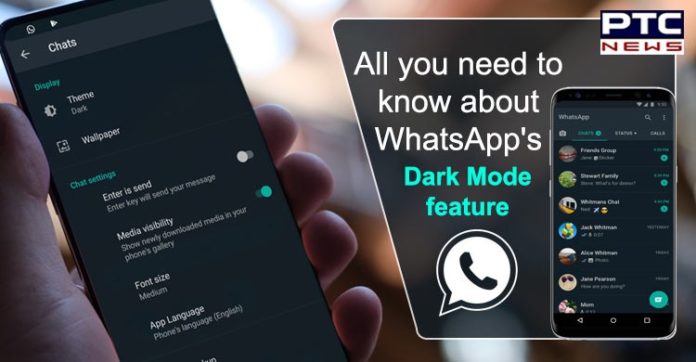 The social messaging application WhatsApp has finally launched its dark mode feature to Android and iOS users on Wednesday. The Facebook-owned messaging platform WhatsApp had been working on the dark mode feature for a long time and during that process, it had released a slew of Beta versions for both the software operating systems. Currently, the feature has been rolling out to its 2 billion users across the globe.
What WhatsApp's 'Dark Mode' offers?
The dark mode for the WhatsApp offers a fresh look on a familiar experience, said the company in a blog post. It added that the dark mode was designed to reduce eye strain in low light environments. It will help prevent those awkward moments (when you
take a look at your phone in a dark room) where your cellphone lights up.
Readability and Information Hierarchy
The company said in a post that when it was designing the dark mode, it spent a lot of time researching and experimenting with two particular areas i.e. readability and information hierarchy. While choosing colors, the company wanted to minimize eye failure and use colors that are much closer to the system defaults on iPhone and Androids. Also, the company wanted to help users easily focus their attention on each screen. The company has used color and other design elements so that the most important information stands out.
Also Read | PM Narendra Modi to give away his social media accounts to women on Women's Day
How to enable 'Dark Mode' feature on your phone?
First of all, make sure that your WhatsApp is updated. If your Android 10 OS or iOS 13 phones are updated and you already have the system-wide dark theme activated, then the WhatsApp will automatically switch to the dark theme. If you are Android 9 OS user and below, go into WhatsApp Settings > Chats > Theme > select 'Dark mode'.
Not able to find 'Dark Mode'
Ever since the feature has been launched, there have been some cases when people are unable to find the feature on their phone currently. No need to worry, the WhatsApp has rolled out the feature by making a batch and hence all the users will get the update gradually.