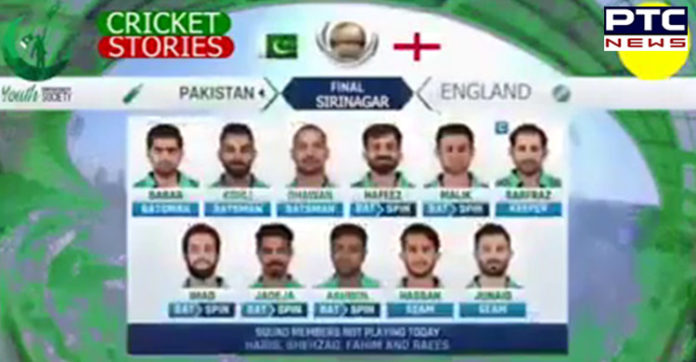 A video being circulated on the internet shows Indian skipper Virat Kohli, left-hand batsman Shikhar Dhawan, all-rounders Ravindra Jadeja and Ravichandran Ashwin in Pakistan, playing XI for the Pakistan vs England match in the ICC T20 World Cup 2025 final.
Pakistan cricket team playing in Srinagar, Virat Kohli playing for Pakistan. Just some regular delusions, nothing else. pic.twitter.com/swBnUp3ShM

— Naila Inayat नायला इनायत (@nailainayat) September 4, 2019
Right in the beginning of the video, the commentator is heard saying, "this is the moment people was waiting for – 2025 T20 World Cup Final. Srinagar Cricket Stadium, Pakistan vs England. To open the innings for Pakistan, we have two legendary batsmen, Babar Azam and Virat Kohli".
Dear Pakistaniyo pic.twitter.com/KjcnZFGoUU

— Yogita? (@momo_classygirl) September 4, 2019
A girl, featured in the video watching the match says, "Dekhna aaj to match Virat Kohli hi jitwaaega" (Just wait, Virat Kohli will ensure a victory for us in this match). The video also shows a man and boy talking to each other. The man says that Virat Kohli used to play for India. To this, the boy replies, "Who India?" This elicits laughter from the amused man.
— kkrishna (@upai_nai) September 4, 2019
Hehe, India will still exist in 2025, not so sure about England. It's like European Pakistan playing Asian Pakistan in 2025.

— Puneri Melbournekar?? ?? (@dhanashree0110) September 4, 2019
You guys got to do this shit soon…Kohli has got only few yrs of play left… hurry up!!

— Urban Utsav ♏? (@Buntea) September 5, 2019
Puri duniya hass rhi h tum par??? pic.twitter.com/VYTr2hbS2o

— Pankaj Sangwan?? (@PankajSangwan16) September 5, 2019
Hame bhi chahiye.. https://t.co/qCR87CLa3p

— Sovik Srimany (@ssrimany) September 5, 2019
This is followed by a graphic showing that India merged with Pakistan. Another graphic flashes on the screen showing the date, September 6 as "Defence Day." The background song says, "Hum Pakistani Mujaheed Hain, Is Dharti Ke Rakhwale."
-PTC News