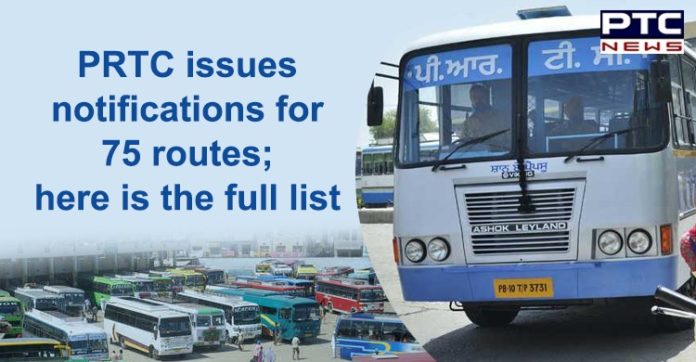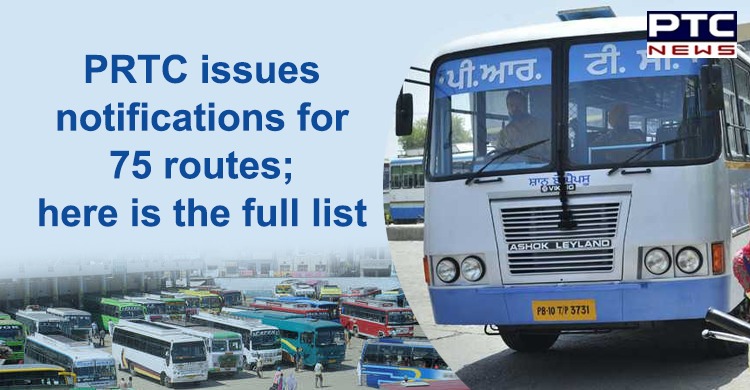 Lockdown 4: The PEPSU Road Transport Corporation (PRTC) on Tuesday issued a notification regarding 75 routes on which the buses will ply from Wednesday onwards. The bus service will begin only from the originating point to the terminating point.

Meanwhile, it has been stated that no passengers will be allowed to onboard the bus from the stops between originating and terminating points. The passengers will only be dropped at the district headquarters. The buses will ply with 50 percent of seating capacity.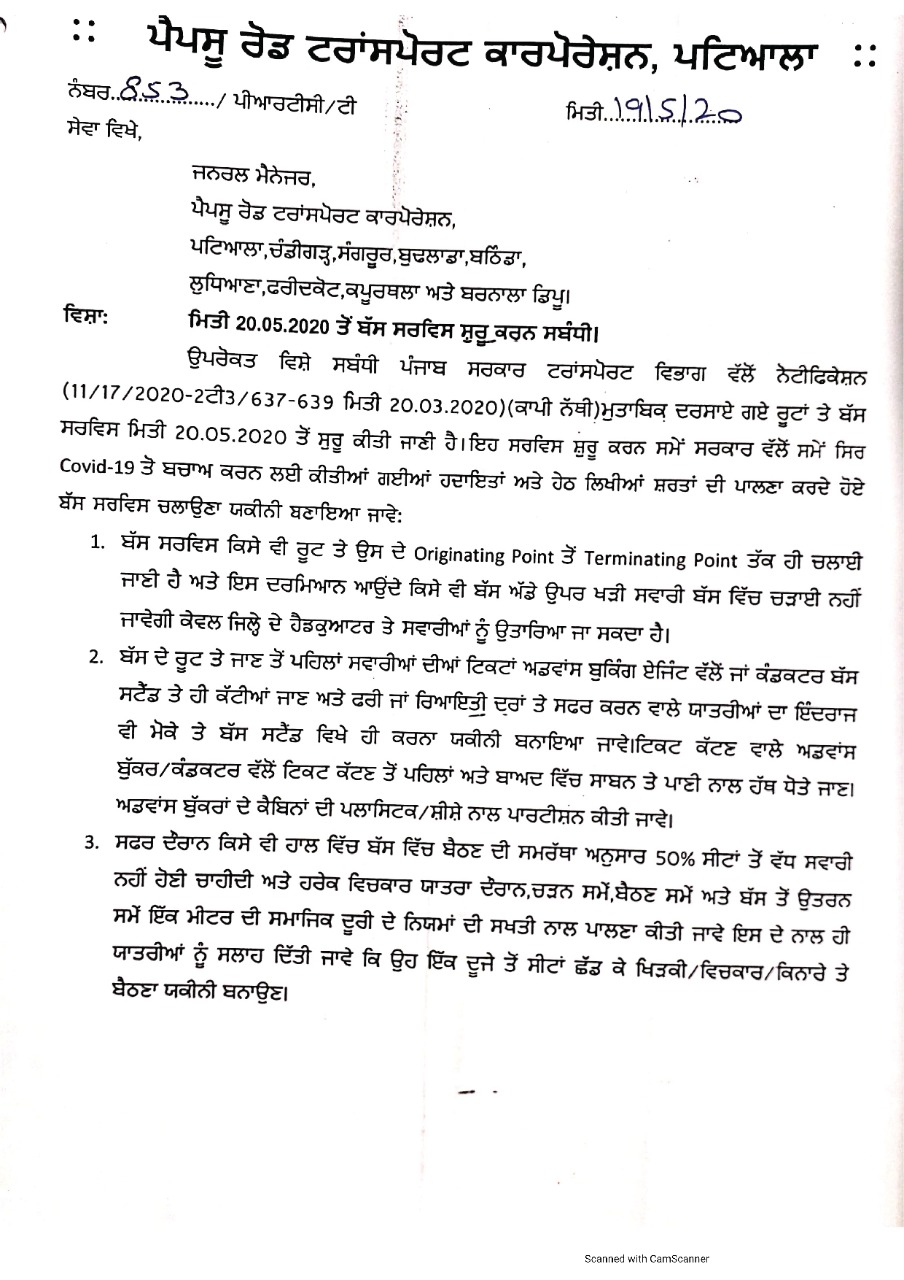 Patiala 
Patiala-Nabha
Nabha-Malerkotla
Patiala-Malerkotla
Patiala-Samana
Samana-Patran
Patiala-Patran
Patiala-Amritsar via Sirhind, Khanna
Patiala-Ropar
Patiala-Ghanaur
Patiala-Nawagaon
Patiala-Bhawanigarh
Khanna-Patiala (Bhadson-Amloh)
Khanna-Nabha
Nawangaon-Samana
Patiala-Gharram
Chandigarh 
Chandigarh-Patiala
Chandigarh-Sangrur
Chandigarh-Bathinda
Chandigarh-Ludhiana
Chandigarh-Ropar
Chandigarh-Rajpura

Sangrur 
Sangrur-Patiala
Sangrur-Malerkotla
Sangrur-Ludhiana
Sangrur-Patran
Sangrur-Chandigarh
Sangrur-Sunam
Sunam-Lehra
Sangrur-Amritsar
Sangrur-Dhuri
Sangrur-Bhawanigarh
Bhawanigarh-Patiala
Barnala 
Barnala-Chandigarh
Barnala-Patiala
Barnala-Sangrur
Barnala-Mansa
Barnala-Moga
Barnala-Bathinda
Barnala-Ludhiana
Bathinda 
Bathinda-Chandigarh
Bathinda-Patiala
Bathinda-Mansa
Bathinda-Dabwali (Killianwali)
Bathinda-Malot
Bathinda-Talwandi
Bathinda-Barnala
Bathinda-Sri Muktsar Sahib
Bathinda-Bhagta
Faridkot 
Faridkot-Moga
Faridkot-Ferozepur
Faridkot-Bathinda
Faridkot-Amritsar
Faridkot-Ludhiana
Faridkot-Chandigarh
Budhlada 
Budhlada-Jakhal
Budhlada-Patran
Jakhal-Patran
Budhlada-Patiala
Budhlada-Sunam
Sunam-Patiala
Budhlada-Boha
Budhlada-Mansa
Mansa-Patiala
Budhlada-Bhiki
Ludhiana 
Ludhiana-Hoshiarpur
Ludhiana-Sangrur
Ludhiana-Malerkotla
Malerkotla-Patiala
Ludhiana-Amritsar
Ludhiana-Chandigarh
Ludhiana-Barnala
Ludhiana-Bathinda
Ludhiana-Nakodar
Also Read | Bus service in Punjab resumes; here is the list of select routes
Kapurthala 
Kapurthala-Jalandhar
Kapurthala-Goindwal
Kapurthala-Tanda
Kapurthala-Amritsar
Kapurthala-Sultanpur
Jalandhar-Patiala
The originating points from where the passengers will onboard the bus shall maintain the social distancing. Meanwhile, the passengers have been mandated to wear masks while travelling by bus. In case the passenger doesn't have a mask, then he/she can buy it from the ticket counter.
-PTC News