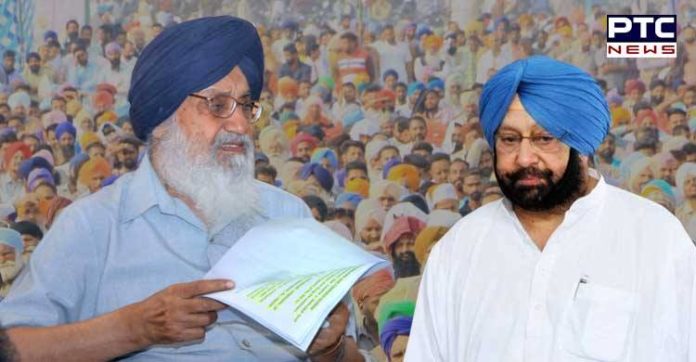 Parkash Badal asks Amarinder to apologize to Khalsa Panth for incalculable hurt caused to it
Former Chief Minister, Parkash Singh Badal, today asked Punjab Chief Minister, Capt Amarinder Singh, to express remorse and apologize to the Khalsa Panth for the incalculable hurt caused to it by denigrating the great Guru Sahiban in the newly brought out class twelve history book of the Punjab School Education Board (PSEB).
Also Read: Pro-Khalistan militant group 'leader' plotting to attack Badal held in Bikaner
In a statement here, the five times chief minister said it was condemnable that the chief minister had abrogated his responsibility as head of state and refused to register criminal cases against those responsible for preparation and distribution of sacrilegious material which had assaulted the senses of Sikhs worldwide. "The mere withdrawal of the history book which launches a brazen assault on the sacred image of the great Sikh Guru Sahiban, especially Guru Arjan Dev ji, Gur Hargobind ji, Gur Tegh Bahadur Sahib and the tenth Guru Guru Gobind Singh ji is not enough. The chief minister should own responsibility for this 'bajjar paap' (grave sin) and apologize to the Khalsa Panth and seek its forgiveness immediately".
Sardar Badal said the Congress government's refusal to bring the perpetrators including the Chairman of the Punjab School Education Board to book, indicated that there was a deep rooted conspiracy to distort Sikh history and through it strike at the very core of the Sikh religion. "This is also an attempt to sow the seeds of discord in young impressionable minds about Sikh religion and thought and take them away from it".
Also Read: Sukhbir Badal asks CM to unmask cabinet minister accused of outraging modesty of woman IAS officer
Stating that the attack on the history of the Sikhs was an attack on the community, Sardar Badal said no Sikh could tolerate the claim as written in the new book that Guru Gobind Singh ji fled from Chamkaur Sahib without informing anyone and that the Mughals did not order the martyrdom of the fifth Guru Arjan Dev ji but had merely "fined" him.
The former chief minister said all these distortions occurred after the Punjab government was forced to remove similar sacrilegious material from the same books following which Capt Amarinder Singh formed a Committee to prepare new history books for class eleven and twelve. "Now with even more serious distortions coming to the fore it can only be assumed that the Congress government is working on a deliberate design to denigrate the Sikh community".
Also Read: Sukhbir Badal asks Captain not to play politics over historic increase in msp of Kharif crops
Mr Badal said now the only course open to Capt Amarinder was to apologize to the Sikh community and take strong action against the perpetrators of the sacrilege to send a clear message that no one would be allowed to denigrate Sikhism in this manner. EOM
-PTC NEWS