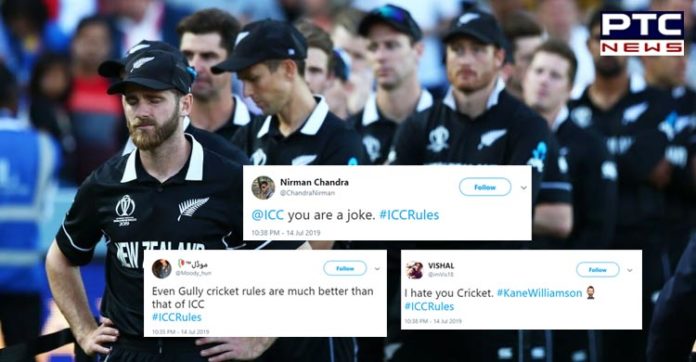 ICC Cricket World Cup 2019: What a weekend it was! England vs New Zealand, World Cup 2019 Finals entered Super over at the historical ground of Lord's in London. The World Cup final witnessed Super over the match, which was last seen in 1999 World Cup. The super over match too didn't conclude any result, and at last, England announced the winners following the maximum number of boundaries hammered by the team. 
Meanwhile, the New Zealand dressing room witnessed the sad faces as they came so long, but because of the ICC rules, they went back as the runner-up, despite an exceptional performance. Likewise, the citizens took no time, to take it on the Internet and express their feelings about the ICC World Cup final match, about the ICC rules, about the fair or unfair decision. 
Well, the New Zealand Skipper is been lauded across the world, for not getting into an argument, not shouting up at any fellow-mate, never sledging the opposition, no fights with the umpire, no giving up. Surely, Kane Williamson is the most respected and the deserving captain of ICC Cricket World Cup 2019.
#ICCRules England won by poor ICC rules and luck. New Zealand won billion Hearts. pic.twitter.com/zct9mDDQwb

— prabhuGanesan (@prabhuitb) July 15, 2019
Why don't wickets could decide the winner? New Zealand took 10 wickets, England took just 8 wickets only. Taking wickets are difficult than hitting boundaries. #ICCRules are also batsmen dominating.

— raghavendra prasad (@prasadraghava) July 15, 2019
The worst performers in this World Cup :

4. Bangladesh
3. West Indies
2. Afghanistan
1. ICC#CWC19Final #Iccrules

— Bollywood Gandu (@BollywoodGandu) July 15, 2019
England hos not won the match by themselves it's the #ICCRules which made them win !!! Such a ridiculous rule of counting fours !! @ICC you are ruining the game the spirit with such stupid rule's !

— Rohhan Patel (@rohhan90) July 15, 2019
Likewise, there are some of those who are criticizing the International Cricket Council (ICC), as the public is saying that the ICC favoured England for their win. Meanwhile, social media is filled with the trolls and memes pouring down on the Internet.
Real winner nz #iccrules #CWC19Final #Fakevictoryengland pic.twitter.com/HgccW9weBb

— என்றும்_தலஅஜித் (@iyyappareddy) July 15, 2019
Even Gully cricket rules are much better than that of ICC#ICCRules

— Aman Singh (@amansingh4ever) July 15, 2019
#ICCRules dear, @ICC u r nothing bt a joke to entire world.1st ur so-called umpiring and 2nd the hilarious rules.if boundaries can decide who would be the winner then u could count by both innings no need for super over, and what about bowlers? Jokers??

— Arpita Chakraborty (@mamai27arpita) July 15, 2019
Agar Boundary ka count bhi same aata to 10th/12th k marks se decide hota world Cup winner.#ICCRules #CWC19Final #ENGvsNZ

— Praveen Sharma (@un_root) July 15, 2019
What is the reason behind conducting a worldcup,when the deserving team ends their campaign on a losing side,From Umpire's call to so called overthrow,Which would have been called dead ball,Everything was going against New Zealand,For me @BLACKCAPS are the real champs #ICCRules pic.twitter.com/iTbhhMToAu

— Nishad Khan (@NishadKhan95) July 15, 2019
ICC rules still need lots of improvements. Umpiring has been average in this World Cup, needs to be more automated. Weathers conditions of the host country should be well analyzed. Number of reviews should be increased. Umpires calls concept should be removed.
#ICCRules

— Ranjeet ?? (@rannjeeet) July 15, 2019
#ICCRules i think one day, it would be a rule, where team scoring maximum boundaries will win, irrespective of whether the total is chased down or not, as the performance are judged on boundaries at such grand stages..

— Meghrajsinh (@icameghraj) July 15, 2019
@ICC you must change some rules. #ICCRules https://t.co/F2bAlXYeAB

— S@chin singh (@sachin_finite) July 15, 2019
Strange that a game that has 5 days matches did not have time to do another super over and decided the World Cup winner by counting boundaries. #ICCRules

— Chetan Bhagat (@chetan_bhagat) July 15, 2019
Teacher: England is first
NZ: but I had the same marks.
Teacher: But see he answered a 4-mark question, and u answered two 2-mark questions. So, he's the winner.
NZ: What the… #ICCRules

— Chetan Bhagat (@chetan_bhagat) July 15, 2019
#ICCRules This was really worst decision to the great game, It was really unfair to declare the winner on basis of boundaries in a game where every single runs count.
England won their first #ICCWorldCup2019 by 0 runs. pic.twitter.com/QJOvks5U1p

— Sanket Bhosale (@bhosale_awesome) July 15, 2019
Why we have a problem now with #ICCRules ? I know the rule is ridiculous, but it is ridiculous since they posted this rule long back. No point in discussing now. Start this in 2022

— Ashwin Iyer (@AshwinIyer3) July 15, 2019
England defeated New Zealand in a Super over (no result) match, where they were given the trophies based on the number of boundaries. Not, be it fair, or unfair, but rules are rules.
-PTC News