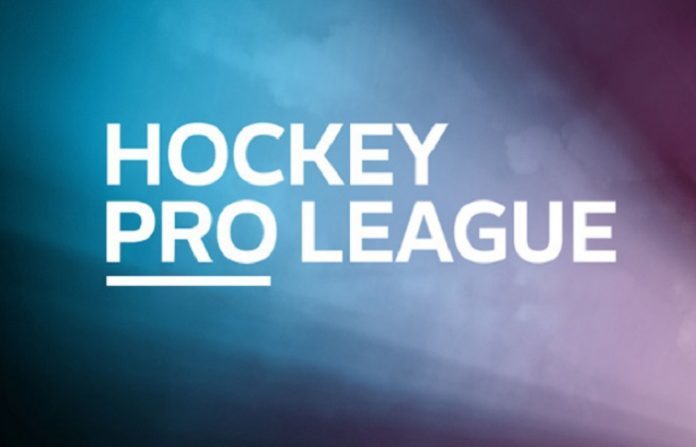 FIH Pro League: Argentina records a double while GB wins an away game
FIH Pro League: Double home success for Argentina while Great Britain women win on the road
Upsets, shootouts, splendid comebacks, exciting hockey and close finishes have been major highlights so far of the FIH Pro League that completed 50 games last Sunday.
Of 50 games, 28 have been decided in the women's section of the League while the remaining 28 games have been played in men's section of this unique event played on home and away concept for the first time.
Another unique feature of the league has been that in case the teams fail to resolve the deadlock during the stipulated period, they have to go for penalty shootout. And the winner of the shootout gets a bonus point in addition to the point of playing a drawn game.
Also Read: Odisha Hockey Men's World Cup: Finally Indian blitzkrieg stuns Canada
Besides the points awarded at the end of the each game, the performance is evaluated on percentage basis also so as to resolve any deadlocks that may arise because of the points system.
Argentina's national teams claimed home wins against China women and Spain men respectively while Great Britain's women recorded an impressive away victory over USA on Sunday.
A brilliantly improvised penalty corner strike from Silvina d'Elia gave Argentina's women a second successive 1-0 win over China, with their result at the Estadio Mundialista in Rosario complementing the same score-line achieved in Changzhou ten days ago to help the Pan American giants narrow the gap on the Netherlands at the top of the FIH Pro League standings. Great Britain's women were also triumphant on Sunday, with Lily Owsley scoring twice as the Olympic champions earned a 3-1 success over hosts USA at the Spooky Nook Sports Complex in Lancaster, Pennsylvania.
Also Read: FIH Pro League: Victories for Kookaburras and Las Leonas in Sydney
In the men's competition, Olympic champions Argentina overturned a two goal deficit to record a 3-2 victory over Spain in dramatic fashion. Goals from Matias Paredes, Lucas Toscani and a penalty stroke from Maico Casella completed a comeback which has moved Los Leones into the top four of the standings.
The opening two quarters of the Argentina (FIH World Ranking: 4) versus China (WR:10) women's match were far closer than home fans would have liked, with the Asian giants frustrating Las Leonas in first 30 minutes. The hosts created the better of the scoring opportunities but could not find a route past Ye Jiao, a goalkeeper who has impressed throughout the inaugural edition of the FIH Pro League.
Argentina, who continue to miss talismanic attacker Delfina Merino through injury, scored what proved to be the winning goal in the third quarter, and it was a strike worthy of winning any match. Silvina d'Elia saw her initial penalty corner flick blocked before producing a moment of inspired brilliance, touching a high ball into space and cracking a backhand half-volley into the bottom right corner to break the deadlock. Agustina Albertarrio wasted an excellent opportunity to double the advantage late on, but it mattered little as the defensively outstanding Argentina comfortably claimed another three points.
Remarkably, it is now 266 minutes since Argentina last conceded in the FIH Pro League, having recorded four successive clean-sheet wins since a 34th minute strike from Dutch ace Pien Sanders saw Las Leonas lose 2-1 against the Netherlands in Buenos Aires on 24 February.
Also Read: FIH Pro League: Black Sticks women beat USA but men lose to comeback kings Spain in Auckland
"We are really happy to win this game at home", said goal-scorer and Player of the Match Silvina d'Elia, before looking ahead to next weekend's match against Great Britain. "We are in the 'way' [process] of making a really good team and it is going to be a really important next game for us, but we will try to win again."
It would prove to be a day of double celebration for Argentina's home fans, although it certainly did not feel like it for the first three quarters of the men's match between Los Leones (WR:4) and the Red Sticks of Spain (WR:9). The Spaniards were by far the better team in the first half, deservedly opening up a 2-0 lead thanks to a fortunate strike from Enrique Gonzalez that deflected into the goal via the stick of Argentina defender Ignacio Ortiz before Juan Catan dived at full stretch to touch home a blistering cross from Pau Quemada.
Quemada had two glorious chances to further extend the advantage in the third period, with Gonzalez also missing before Argentina veteran Paredes scored two seconds before the end of the quarter to give his team a life-line. Lucas Toscani crashed a sensational volley into the roof of the Spanish net to level the scores at 2-2, with the winner coming from Maico Casella's perfectly executed penalty stroke after a Player of the Match Paredes was fouled with the goal at his mercy.
Also Read: FIH Pro League: Moes winner sinks China as Netherlands women return to top of the standings 
"In the last quarter we played better, we had opportunities and we scored which is why we won, but we didn't play really good today", said Paredes. "I think we have to improve. Today we played really bad, while in Australia [3-2 defeat] and New Zealand [1-2 win] we played better, but we have two weeks to gain some more points and be there in the final four."
The third and final match of the day took place at the Spooky Nook Sports Complex in Lancaster, Pennsylvania, where USA (WR:12) hosted Olympic champions Great Britain (WR:2). The home favourites made the first impression on the scoreboard midway through the second quarter, with Mackenzie Allessie adding the finishing touch to a well rehearsed penalty corner routine. USA's lead lasted just five minutes, with Lily Owsley producing a cool body swerve to move past American shot-stopper Kelsey Bing to restore parity at half time.
Owsley made two significant contributions in the third period, providing the assist for Emily Defroand to pounce from close range before getting a crucial touch on a penalty corner routine as Great Britain established a 3-1 lead that proved to be enough for all the points. It was Great Britain's first win of the FIH Pro League, and will give the team great confidence ahead of their upcoming meeting with Argentina in Rosario.
Also Read: We're easy to analyse but tough to beat, warns Sweden coach
"To win is unbelievable", said Owsley, who was named Player of the Match. "It's been a long time coming and it means the world to us to get three points. It's been a tough journey, a tough transition since the World Cup, and I feel exhilarated and relieved."
 Result: Women's Match 27
Argentina 1, China 0
Player of the Match: Silvina D'Elia (ARG)
Result: Men's Match 22
Argentina 3, Spain 2
Player of the Match: Matias Paredes (ARG)
Result: Women's Match 28
USA 1, Great Britain 3
Player of the Match: Lily Owsley (GBR)
– PTC NEWS