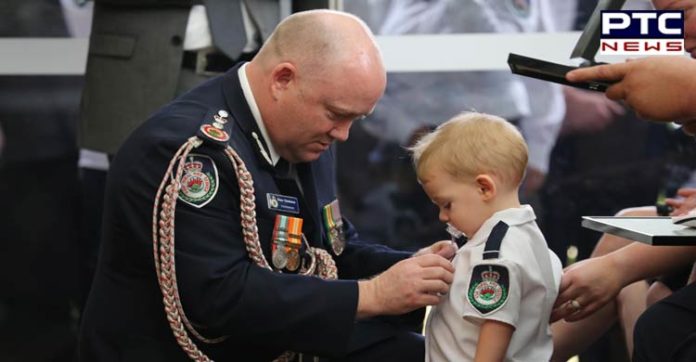 Australia bushfire: In an emotional moment, a 9-year-old boy, son of firefighter, has received a medal from NSW Rural Fire Service Commissioner Shane Fitzsimmons. Firefighter Geoffrey Keaton was one of the two firefighters who lost their lives while fighting bushfire on December 19.
While sharing the pictures, NSW Rural Fire Service wrote: "Today the NSW RFS family farewelled one of their own, with the funeral of Geoffrey Keaton held in Western Sydney earlier on Wednesday. Geoff was one of two firefighters who tragically lost their life while fighting fires in South West Sydney on December 19, 2019."
"Commissioner Shane Fitzsimmons honored Geoffrey today by awarding him posthumously a Commissioner's Commendation for Bravery and a Commissioner's Commendation for Service," it also added.
The tragedy has claimed the lives of 23 people and destroyed thousands of houses and devastated around 5 million hectares (12.4 million acres) of land. Meanwhile, the native animals of the land down under are the most affected. As per reports, millions of animals have died amid the ongoing bushfire.
Australia Bushfire: Glenn Maxwell, Chris Lynn and Darcy Short sixers to help victims
The bushfires started from the intense heat waves in the island nation. Due to the bushfire, the birds were dropping dead every day, koalas and kangaroos have been burnt to ashes while other wild animals fled to urban areas to get away from the bushfire.
Meanwhile, Australian Prime Minister Scott Morrison cancelled his visit to India later this month due to the extraordinary circumstances of the bushfires in Australia.
-PTC News