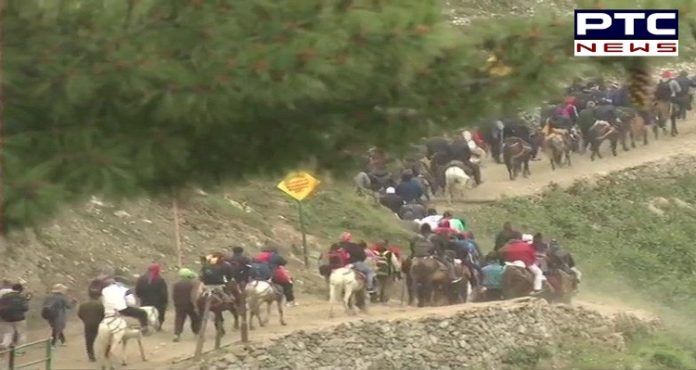 Amaranth Yatra 2019: With chants of "bam bam bhole" and " har har Mahadev " the  46 day Amarnath Yatra officially begins, here on Monday. Amongst 1.6 lacs people who have registered themselves for the visit to holy cave, the first batch of 2,234 members has left the base camp of Baltal and Pahalgam to begin their yatra amidst tight security.
Baltal: Authorities have started to issue a 'barcode-enabled' authority slip to pilgrims to keep a track of the actual number of people travelling to, and from the cave shrine. #JammuAndKashmir #AmarnathYatra pic.twitter.com/IHIhnugaLZ

— ANI (@ANI) July 1, 2019
Advisor to the governor of Jammu and Kashmir Satya Pal Malik, KK Sharma set off the Yatris after conducting 'pooja' for their journey and safe return. This season Governor of the valley Satya Pal Malik was the first one to visit the holy shrine. Malik performed first Aarti of this season at 9:30 AM, thereafter the cave was held open for the rest of the pilgrims.
#AmarnathYatra : A total of 1617 pilgrims (1174 men, 379 women, 15 children, 49 saints) began their journey to Amarnath cave shrine from Baltal axis and 2800 pilgrims (2321 men, 463 women, 16 children) started from Pahalgam axis, this morning. #JammuAndKashmir pic.twitter.com/CBTuELRdKq

— ANI (@ANI) July 1, 2019
In order to ensure the security of the pilgrims, nearly 8000 of army officials have been deployed. Besides the human force, advanced technology has also been brought in use to tighten the security arrangements. Along with various CCTV cameras, drones, and bulletproof vehicles are also being used as per orders of the government. Checking points at regular intervals added to the security arrangements.
Udhampur: Second batch of pilgrims en route #AmarnathYatra amid security. #JammuAndKashmir pic.twitter.com/TBQzplIdBO

— ANI (@ANI) July 1, 2019
Union Home Minister Amit Shah too had reviewed the security arrangements for the Amarnath Yatra 2019 during his visit to Jammu and Kashmir last week.
Also Read: Amarnath Yatra: Another 724 Pilgrims Leave For Base Camps
Sited at 3,888 meters above sea-level, the Amarnath shrine houses an ice stalagmite "Shivling" structure that signifies the mythological powers of Lord Shiva. Pilgrims trek through mountains to reach the holy cave in the Himalayas in south Kashmir. The pilgrimage will end on August 15, the day of Shravan Purnima, according to the Hindu calendar.
-PTC News